What is New for the 2023 T3 Fall Term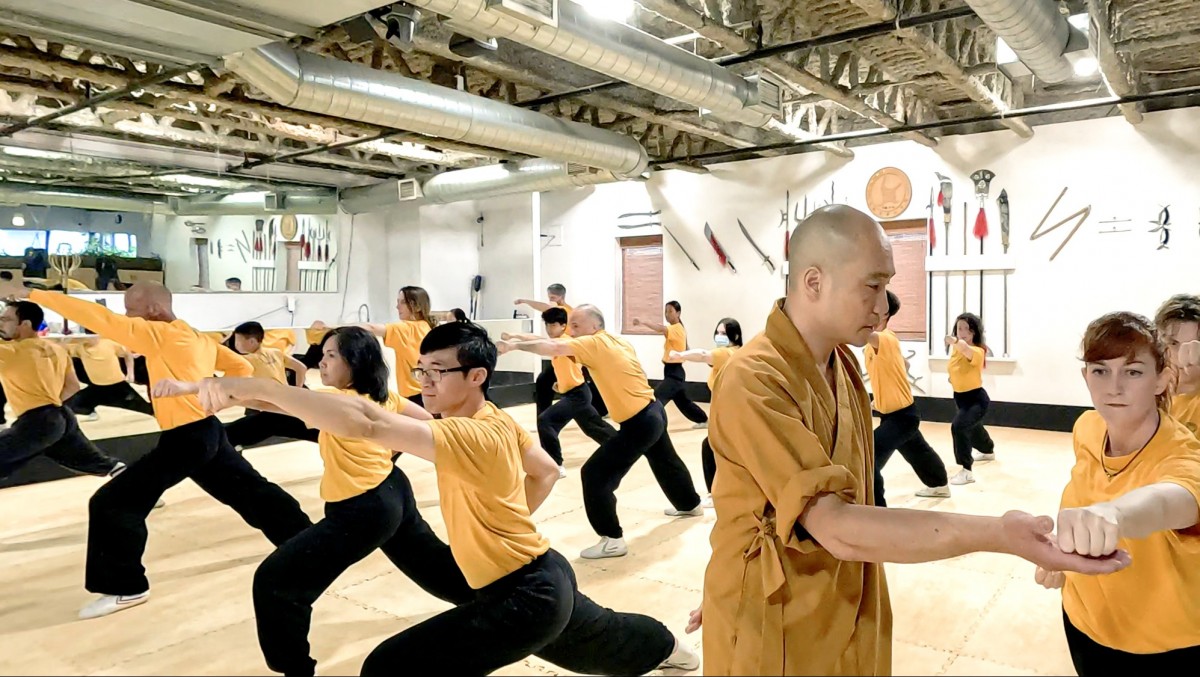 Fall Term Begins Tuesday, September 5, 2023. Register online at www.stqitoronto.com.
The Fall is a popular time for new students to register and we expect to surpass our 175 base student target. To accommodate, we're adding new classes!
Top Student Attendance for the 2023 T2 Summer Term
Firstly, we would like congratulate the following students who reached the top 3 in attendance last term. We started a tradition last term where the top dedicated students in training are rewarded a semi-private lesson with Master Dao!
Andrew Cheng
Vivian Wong
Ayelen Eng
FYI, you can now easily see the top attendance rankings through the Student Portal (more on that later in this newsletter)
New Classes for the 2023 T3 Fall Term
We excited to announce that have several new classes for the upcoming 2023 Fall Term (which starts September 5):
Women's Self Defence - Sundays at 4pm
Shaolin Kids Kung Fu (Foundation and Forms) - Wednesdays at 1pm to 3pm
Sanda Fitness - Sundays at 12pm
Shaolin Stretch Therapy - Saturdays at 12pm
Below are detailed descriptions of these new classes and times.
Shaolin Stretch Therapy
*NEW FALL TERM CLASS - SATURDAYS AT 12PM WITH MASTER DAO*
This class empowers students to apply Shaolin wisdom to Stretch Therapy for healing the body, relieving muscle strain and joint pain, improving posture, and increasing flexibility and range of motion. It includes Shaolin stretching as the foundation for healing along with qigong, massage, and acupressure techniques.
It can be taken to supplement any Shaolin class, such as kung fu, tai chi, and qigong.
This class is especially great for those who spend a lot of time sitting and need some easy movements to improve the hip and knees.
No experience is needed.
Students may drop-in as needed or attend all the classes each week.
Your teacher will guide students through a core set of exercises each week and include different theme and techniques based on audience participation and needs.
Shaolin Tai Chi
*NEW FALL TERM TIME - SATURDAYS AT 3PM WITH INSTRUCTOR ANDREE*
Shaolin Tai Chi Foundation is about training fundamentals of relaxing, awareness, and qi flow, along with gentle and soft self defence techniques.
It will also help you improve your flexibility, coordination, fitness, energy, and overall health.
A typical class includes warm up drills, stretching, gentle stance training, cloud hands exercises, gentle foundation kicks, and relaxed self-defence application exercises.
The second half of class include drills for relaxed self-defence application and taolu forms.
This class is designed to make you feel your body flow with movement and lightly work on your cardiovascular endurance. The less muscles you use, the more you breathe, and the more relaxed your are, the higher your level.
Shaolin Sanda Fitness
*NEW FALL TERM CLASS - SUNDAYS AT 12PM WITH DISCIPLE LUKA*
This is a fun class that stresses on cardiovascular endurance and power, utilizing the traditional Shaolin methods.
There is no sparring or gear needed for this class.
Each class includes footwork drills, aerobic style kung fu exercises for power muscles. Includes Sanda exercises unique to Shaolin!
Recommended to adults for fitness or to supplement the Sanda Sparring class.
Expect high calorie burn!
Womens Self Defence
*NEW FALL TERM CLASS - SUNDAYS AT 4PM WITH DISCIPLE ROSE*
Note: Disciple Rose is currently away so Master Dao will be subbing in until the second week of the Fall Term
This is a fun class that stresses on cardiovascular endurance and power, utilizing the traditional Shaolin methods.
This is intended for women who want the comfort of taking a self defence class with other females, and will emphasize strategic, mental and physical training using traditional Shaolin philosophy and methods.
Simple techniques with repetitive training are necessary for immediate and long-term effectiveness!
Each class will include philosophy and mental exercises, warm up and stretching, footwork, striking techniques, escaping techniques (from various grabs and holds), safe sparring drills, wrestling, iron body training, and core strengthening exercises.
Students will also practice a Shaolin form especially designed for this class by Master Dao.
Key Events this Fall
Shaolin Team Canada Wushu Festival on October 29th, Sunday
The Shaolin Team Canada Wushu Festival (STC Wushu Festival) is a celebration of Shaolin Spirit involving the students of Master Shi Guo Song's STQI brand of traditional Shaolin schools in Canada.
This is the largest Shaolin festival in Canada, and it will be held at Scadding Court. It will feature Shaolin Challenges and Taolu Forms Competition! Be sure to talk to your Team Captain, Luka and register!
For more information and registration, please click the link below:
[2nd Shaolin Team Canada Wushu Festival Link]
Worldwide Meditation Workshop
Learn how Shaolin Meditation and philosophy can help bring you peace. The next worldwide meditation workshop will be held on Monday, November 13th, 2023, at 7pm EST. The topic will be 'Wisdom'.
In the last session, Master Dao spoke about 'How to Overcome Regret' and taught students how to think about regret in a different way - i.e. it's designed for learning, not suffering. A blog has been written about it and you can view it here: How to Overcome Regret.
[Meditation Workshop Registration Link]
Shaolin Winter Retreat - Shaolin Martial Zen
Many people have requested a Shaolin Boot Camp for adults, and finally it has arrived! Experience two full days of Shaolin training with Master Dao.
This 2-Day Shaolin Winter Retreat will take place from Saturday, December 23rd (9am to 5pm) to Sunday, December 24th (9am to 5pm), at our downtown Toronto school.
The event will be limited to 20 students. You must be 18 years of age or older in order to participate. We will make some exceptions for teenagers who have previously participated in the meditation session of the Summer Shaolin Retreat.
The Shaolin Winter Retreat is about Shaolin Martial Zen. Its aim is for you connect with your spiritual self, developing awareness of yourself, and develop your physical health.
You will learn about the Shaolin Virtues and apply them through 16 hours of training with Master Dao. You will experience two days in the life of a Shaolin Warrior, including meditation, lectures on Zen philosophy, qigiong, taichi, and kung fu.
No experience in any of the Shaolin arts is needed and we welcome beginners. For those physically unable to do kung fu, you will be able to train in Tai Chi instead.
A hearty vegetarian lunch is included each day!
Pricing for STQI Students of the 2023 T3 Winter Term (with at least 14 tokens) will be discounted at $345 + tax. Non-students will be $495 + tax. More details will be provided later - if you want to register early, you can use the link below.
Note: At this time, registration is limited to students registered for the 2023 T3 Winter Term. If there is room, we will open this event up to everyone, on November 30.
[Shaolin Winter Retreat Early Registration Link]
Social Events and Sports Events
Our social committee will continue to organize free events to help foster our community, such as movie and game nights, as well as social sports such as basketball, soccer, and volleyball.
The next Social Sports will be held after the Shaolin Team Canada Wushu Festival, sometime in November and December. We will send out a sign up for this as we get closer to the date.
Vexspawns are Coming - Adults Prepare!
Our brave children have had a lot of fun defending humans for years during our kids camps. Now, it's the adults turn!
A LARPG (Live Action RPG) is planned for an Adult Social Night (18+ years) in November, likely a Saturday from 5pm to 9pm (4 hours).
With Master Dao as your official DM, you will be tested in an engaging story where you will be able to use your kung fu and tai chi forms in battle. You will need to bring your own meal and snacks.
Note: You must be a student of the 2023 T3 Fall Term, in Shaolin Kung Fu or Shaolin Tai Chi classes, in order to join in this fun (otherwise, you can only be a meat shield)!
We will send out a registration form for this once we have a date available.
Sanda Fight Night
Entertaining exhibition Shaolin Sanda matches will be held during the last week of classes. These exciting matches showcase our students' ability to demonstrate control, accuracy, speed, technique, and strength. All students are welcome to come watch the matches for free and cheer for all of our participants.
Shaolin Classes This Term
Shaolin Kung Fu

Shaolin Kung Fu emphasizes core training and developing powerful muscles. Strengthening the core improves the circulation of your vital organs, and increases available energy in the body. Developing your physical prowess also means more white blood cells, muscle mass, bone density, and greatly increases your body's pathogenic defense systems.

In the Shaolin Kung Fu Foundation class, we will return to exercises involving various animal hand postures for self defence applications, such as the leopard, mantis, snake, and crane.

In the Shaolin Kung Fu Forms class, we will emphasize 'play sparring' exercises. These will be safe exercises involving control drills and techniques to develop decision making in simulated encounter situations.

Note: We've added Shaolin Kung Fu for Kids on Wednesdays from 1pm to 3pm, Shaolin Sanda Fitness on Sundays at 12pm, and Womens Self Defence on Sundays at 4pm, this term!

Shaolin Tai Chi

Shaolin Tai Chi emphasizes breath with gentle movements to invigorate the body for health and vitality. Breathing better means having more energy in the body and gentle movements improve deeper circulation for the vital organs.

We'll be emphasizing the Breath Qi in our classes and, explore how it can relax and energize our body and mind with our movements. It can be generally applied to all of our techniques, sparring exercises, and forms. Those participating in Qigong classes can apply additional theory to the Tai Chi classes.

Note: We've added Shaolin Tai Chi on Saturdays at 3pm this term!

Shaolin Qigong

Shaolin Qigong is foremast about awareness of one's energy, and learning how to cultivate it, and move it around the body. Qigong will improve your understanding and awareness of your energy (Qi), as it relates to your mind and body, and the environment around you. You will be able to make better lifestyle choices based on what you want in life.

In the Qigong Foundation class, we will emphasize the Breath Qi along with specific qigong exercises.

In the Qigong Forms class, we will investigate advanced qi-flow techniques and focusing on advanced qi-flow patterns for qigong forms.

Note: We've added Shaolin Stretch Therapy on Saturdays at 12pm this term!