Written by Master Dao on Thursday, June 09, 2022
Shaolin Martial Zen T-Shirts Now Available
We have new t-shirts for sale! It is part of our S.L.T.O. (Shaolin Luohan Temple Outreach) fundraising initiative to provide Shaolin qigong, tai chi, and kung fu instruction to the elderly, weak, and poor. As we visit our beneficiary institutions, we'll be giving away these t-shirts to some of the participants as a reward for their participation.
This bamboo/cotton t-shirt has a luxurious and comfortable feel. In the front is our SLTO logo which says "Shaolin Martial Zen" and it's what makes our ancient Shaolin martial tradition so unique. On the backside are graphics depicting some poses from our Shaolin disciplines of meditation, qigong, tai chi, and kung fu.
Our t-shirt design was the collaborative effort of our outreach team. Val is our main graphics designer and she produced the awesome graphics on the back.
At this time we are selling these t-shirts to the public and our students at our downtown Toronto location for $25 (no tax - cash only). 100% of the proceeds go towards our outreach initiative.
We also want to thank Eagle View International for generously supporting us in producing these high-quality t-shirts!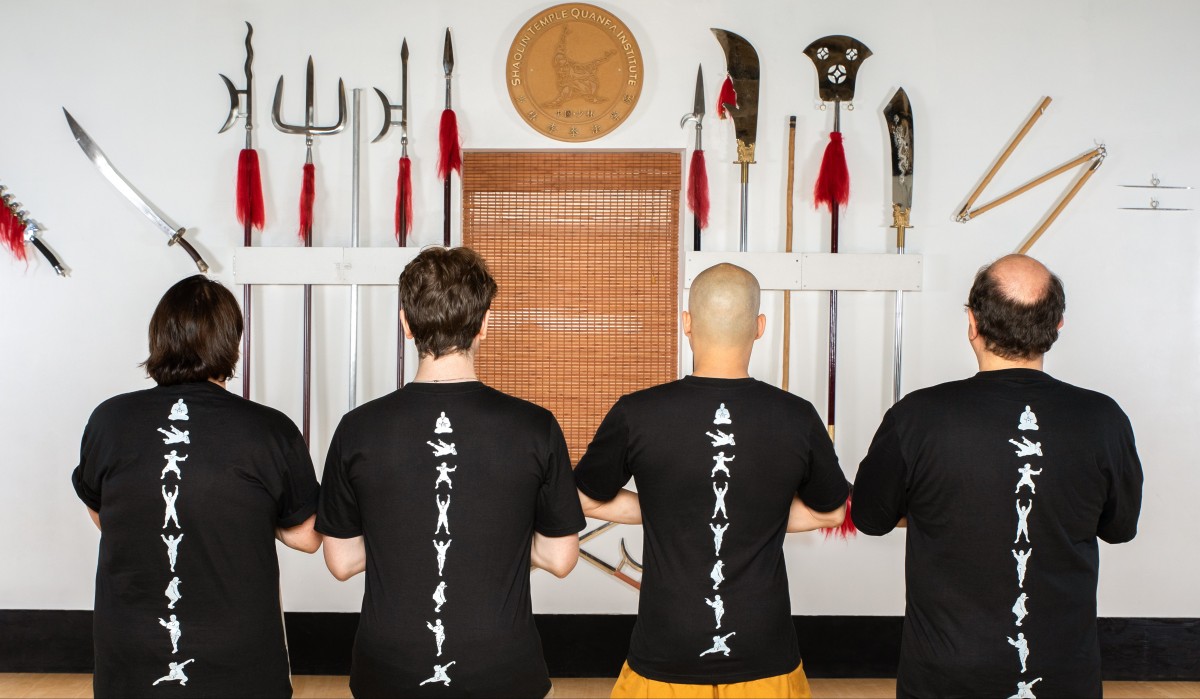 Posted by Master Dao on Wednesday, March 30, 2022

We're now accepting applications to become a beneficiary of our Shaolin Luohan Outreach program. The initiative, called Shaolin Luohan Temple Outrea...

[more]
Posted by Master Dao on Monday, April 18, 2022

It is very difficult to encapsulate a 1,500 year old culture in just 4 Chinese characters, but the Chinese language has a way of doing just that! Embedded in th...

[more]
Posted by Master Dao on Wednesday, March 30, 2022

The Shaolin Luohan Temple Outreach program would not be possible without the financial support of the students of STQI. Stude...

[more]
Posted by Master Dao on Thursday, June 23, 2022

Master Dao and a few of his students conducted a Shaolin Qigong workshop at the Russell Hill Retirement Residence this past...

[more]
Posted by Master Dao on Thursday, June 23, 2022

Our high quality Shaolin Martial Zen T-Shirts are produced by Eagle View Impex. Their support has made it possible for our team to raise...

[more]
Posted by Master Dao on Friday, March 18, 2022

We're pleased to announce that we have officially formed a project team from members of the downtown Toronto school. This initiative, called Shaolin Luo...

[more]
Posted by Master Dao on Thursday, June 09, 2022

We have new t-shirts for sale! It is part of our S.L.T.O. (Shaolin Luohan Temple Outreach) fundraising initiative to provide Shaolin qigong, tai chi, ...

[more]